Featured JDM Import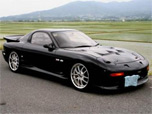 The 3rd generation Mazda RX-7 | Efini RX7 (FD3S) is one of the most sought after sports cars by Canadian enthusiasts.
With 50:50 front-rear weight distribution, low center of gravity and long wheelbase the RX7 possess world class handling and amazing balance for drifting, racing and cruising in stock form.
The 13B's twin turbos put out 255hp from the factory and the engine can be tuned to produce over 400hp at the wheels for much less than most sports cars.
Mazda RX-7s For Sale